How to travel with a tablet
An iPad or Android tablet is an ideal holiday companion. Here's everything you need to know about travelling with a tablet.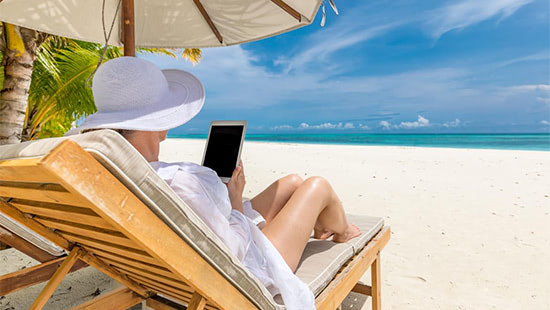 Why are tablets useful to take on holiday?
Tablets are bona fide entertainment centres, and because their screens are much bigger than smartphone displays, they're generally much easier and more satisfying to watch or read on. They also usually have a longer battery life than smartphones. That means you can enjoy your go-to TV drama on the airport shuttle bus without worrying about your phone running out of juice before you reach your hotel.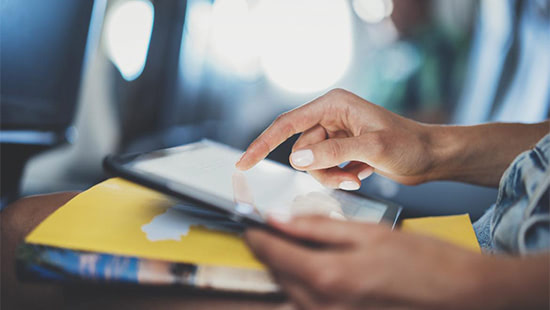 Can I bring my tablet on a plane?
Yes, almost always. (Some airlines or countries may have different restrictions, so it's worth double-checking with your airline before you set off.) You'll have to take your tablet out of your carry-on bag while going through airport security and turn on airplane or flight mode before take-off. Otherwise, travelling with a tablet couldn't be simpler.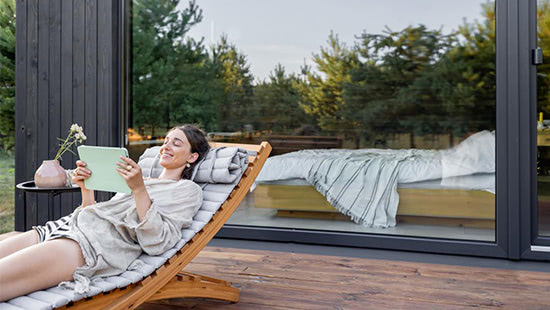 Can I use the internet on my tablet when travelling?
Like smartphones, tablets can connect to the internet via data or Wi-Fi. However, while O2 smartphones get free EU roaming up to 25GB, this doesn't apply to tablets. You'll be charged global roaming rates if your tablet uses data abroad. If you're travelling abroad, the most cost-effective approach is to use your phone if you need to use data while out and about. Stick to reliable Wi-Fi connections, such as the Wi-Fi in your hotel, to get online on your tablet. Download new films or books the evening before a long train ride or a trip to the beach, and your entertainment will be ready to go when you set off.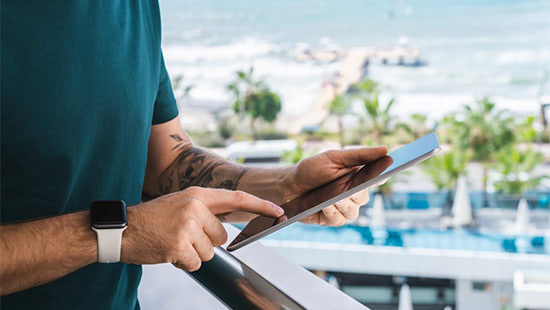 How can I protect my tablet on holiday?
Tablet insurance will cover you if your device is lost or damaged. But there are other ways to keep your tablet safe and in good condition. For obvious reasons, don't get it wet. Avoid leaving it lying around outdoors when it's warm and sunny – this can make tech devices overheat, damaging the internal electronics and leading to the battery draining more quickly. A water-resistant, shockproof protective case can also help protect your tablet in case of drops or knocks. Take good care of it, and you'll have a trusty travel companion for years to come.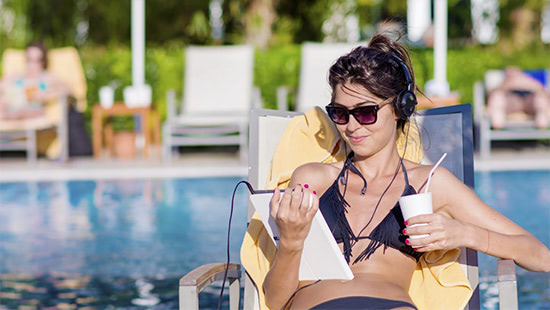 What tablets are perfect for travelling?
The portable Lenovo Tab M8 4th Gen is among the best Android tablets to slip into your carry-on. Lightweight with an 8″ HD display, its all-day battery makes it ideal for travelling (and a low light feature means you can watch movies for longer without eye strain). If you prefer an Apple device, there are plenty of iPads to choose from.