Why get a laptop with O2?
Tech that keeps up with you
Our range of laptops keep you connected on the go.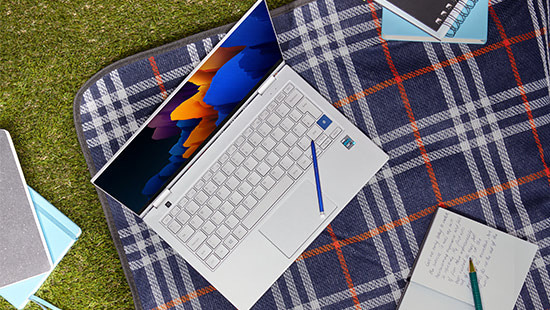 Do what you love, wherever you are
Stay connected with cellular. Don't worry about finding a wifi hotspot when you're away from home. Our cellular connected laptops use O2's award-winning network to keep you connected in more places than ever. Whether it's a work meeting or you just need some 'you' time to enjoy a film or gaming marathon, enjoy the freedom of being connected on the go.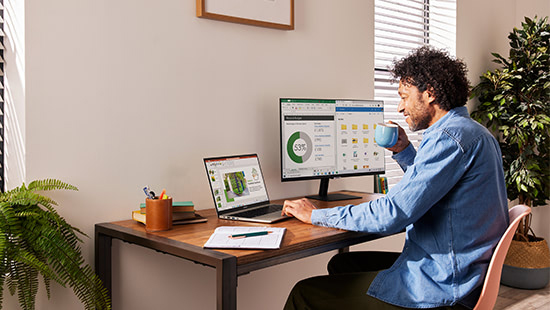 Get a laptop that suits you
We offer a range of laptops so you can find the right device for your needs. Whether you're looking for a laptop for the whole family, something to keep you entertained, a taskmaster for the home office or something a bit more powerful for gaming marathons – we have the laptop for you.
Get the laptop you want, without draining your bank balance
All of our connected laptops are available on flexible O2 custom plans. Meaning? You can choose how much you want to pay upfront and then spread the rest of the cost into affordable monthly payments. It's easier than ever to get the tech you want at a price that suits your budget.
FAQs
Which Operating System do O2 laptops use?

We have a range of different laptops that use a version of Windows 10. Check the technical specification of your laptop to see which version it uses.

---

Will my laptop always be connected to the internet?

If you buy one of our cellular connected laptops, you'll have connectivity wherever there's an O2 signal – even if there's no wifi networks available. (Cellular data will use your monthly data allowance).

---

How long will my laptop contract be?

If you pick one of our custom plans when you sign up, you can choose the duration of your laptop contract.

---

How do I insert my sim into my laptop?

All of our laptop ranges have a sim slot to inset your sim. But how to do this will depend on which model you have. You can find more information in your model's instruction manual.

---

Can I use my laptop abroad?

If you bought your connected laptop through O2 custom plans, your tariff will cover roaming in our Europe Zone. So your data, minutes and text allowances will work in our Europe Zone, just like they do at home.

Find out more about our Europe Zone.

If you use Spacetalk Adventurer in a country outside of our Europe Zone, our normal roaming charges will apply.

---

What happens if I use all my O2 data allowance within the billing month?

We'll send you an email once you've used 80% of your monthly data allowance. And again, once you've used 100% of your allowance.

Once you've used 100% of your data allowance, your cellular data will stop working until you buy a Data Bolt On within My O2 or you reach your next billing date.

You can still use your laptop with wifi like normal without cellular data.

---

Can I get a Family Plan, O2 Student or O2 Open discount on my connected laptop custom plan contract?

Yes, connected laptops on custom plans are eligible for Family Plan, O2 Student discount and O2 Open discount.

---