Like a computer. But not.
The power and performance of a laptop. The design and convenience of iPad.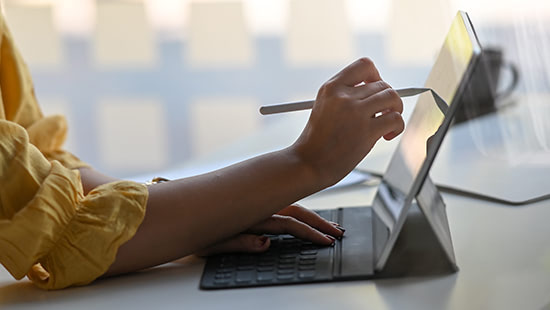 Unleash your creativity
Whether you're making a movie, editing pictures or creating your latest music track, iPad's got the tools to do the job. Immerse yourself in your creative projects with the iPad Pro's large, edge-to-edge Liquid Retina display. And with its intuitive interface, front-and-back cameras, interactive texts, and amazing educational apps and content, iPad is also transforming how teachers teach and students learn.
Powerful productivity. Powerfully thin.
Apple iPad is the perfect partner for business. It's a personal assistant. A presentation expert. A scanner. An accountant. And with amazing performance in a thin and light design, iPad lets you be more productive in more places. The new iPad 9th Generation supports over a million apps, and lets you run them at the same time, side by side. And you can choose to add a Smart Keyboard and Apple Pencil, so you'll get even more out of your iPad. Whatever you do, iPad can transform the way you do business.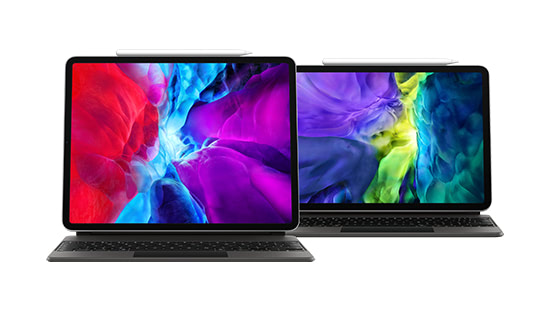 A better way to work and play
Be even more productive with the new iPadOS 15, with App Library, multitasking features, external keyboard options, widgets, improved note-taking, and much more. The new iPad mini 6th Generation features an all-screen compact design on an 8.3-inch screen but packs a powerful performance with its A15 Bionic chip. And, discover the latest iPad 9th Gen, which also comes with iPadOS 15 along with all-day battery life, offering new ways to work and create no matter where you are.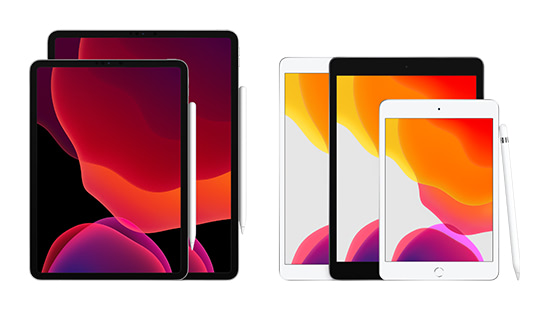 Choose the right iPad for you
Discover the latest iPad series. iPad Pro packs more power than your laptop and is much lighter and easier to carry around. And, iPad 9th Gen brings the best battery life in an iPad yet. Or if you're looking for something small yet powerful, iPad mini 6th Generation combines power and portability – weighing just 297g, so you can work or play games on the go. Whatever you're looking for, there's an iPad for you.
FAQs
What is the newest iPad?

The new iPads are the iPad 9th Generation and iPad mini 6th Generation.

Discover more about latest iPad 9th Generation and iPad mini 6th Generation with 5G today or see our iPad range.

---

When can I buy iPad 9th Generation?

The latest iPad series was announced on Tuesday 14 September and became available to buy from Friday 24 September. You can now shop iPad 9th Generation and iPad mini 6th Generation here at O2.

---

What's the difference between an iPad and an iPad Mini?

The main difference between iPad 9th Generation and iPad mini 6th Generation is the size. An iPad mini has an 8.3 inch Liquid Retina display, whereas the iPad 9th Generation has a 10.2 inch Retina display.

You'll find the perfect iPad for you with our iPad range.

---

What's the difference between an iPad Pro and an iPad Air?

An iPad Air is designed to be super lightweight at just 456g grams, remarkably thin and portable - this is perfect if you're going to be taking it on the move.

The iPad Pro is much more powerful than the iPad Air, it's designed to act more as a tablet computer than a tablet.

Shop our iPad range and find the right one for you today.

---

Where can I buy an iPad?

You can shop the best iPad deals at O2.

Shop Apple iPad 9th Generation
Shop Apple iPad mini 6th Generation
Shop iPad Series

---

Can I purchase iPad on pay monthly?

Yes. You can choose to pay upfront or spread the cost with our 0% APR pay monthly option at O2.

---

Where can I buy iPad cases?

You can buy a range of cases directly from us at O2. Whether you need a case that'll fold out into a keyboard, or just one that's going to give you more protection, you'll find exactly what you need.

---

Where can I buy a refurbished iPad?

You can buy a refurbished iPad directly from us for a reduced price. This is an easy way to save yourself money, while giving you the peace of mind you won't get by buying from an unknown seller.

---

Where can I buy an iPad keyboard?

We have loads of different iPad keyboards. Due to the different sizes of each iPad, you'll need to find the right sized keyboard for the iPad you own or want to buy. The newest iPad keyboard available is the Magic Keyboard for the iPad Pro 12.9 inch 2020.

Find what you're looking for in our range of keyboard and accessories.

---

Will I get Disney+ when I buy my new iPad?

Regardless of whether you're upgrading your monthly plan or signing up to O2 as a new customer – you'll get 6 months of Disney+ on us. Just choose your Pay Monthly iPad, and select Disney+ as your Extra when you check out.

Not ready for an upgrade? Simply add Disney+ to your current plan via My O2 for £7.99 and we'll give you £2 a month off your bill.

Buy an iPad and get Disney+ at O2 today.

---