The game-changing Galaxy collection is here
Meet the all-new Galaxy family from Samsung: sleek tablets, clever watches plus the latest slim and seriously big-screened flip and fold phones.
Bigger cover screen, bigger possibilities
Back in the day, flip phones weren't exactly known for their generous screens (remember having to press the "down" button repeatedly to read a text that wasn't even that long?). But things are different now. Galaxy Z Flip5 takes things to another level thanks to Samsung's biggest cover screen yet, which you can personalise and use to make payments and calls before you've even flipped it open. And with Galaxy Z Fold5, you get a big screen experience wherever you go thanks to a huge, smooth and vibrant display that's basically like having a cinema in your pocket. Catching up on that cult TV show or gaming on the commute to work will never have felt so satisfying.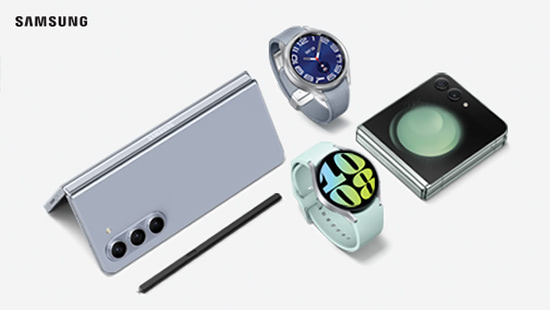 Selfies never looked better
If someone tells you they never take selfies, one of two things is going on: either they're lying, or they had a bad experience with a front-facing camera once and it really put them off. But whether you need a quick up-to-date headshot for work, your dating app requires a refresh or you just want to see your new haircut from all angles, there's no shame in a selfie – and the better your camera, the better you'll feel. Galaxy Z Fold5's AI-powered smart camera captures every detail, even in low light. And Galaxy Z Flip5's FlexCam allows you to adjust your shot to get the perfect angle – while its main 12MP camera with Portrait Mode makes every skin tone pop. Say cheese.
Personalisation of Heart Rate Zone enabled when selecting outdoor run activity. It is required to run consistently for more than 10 minutes with speed of 4km/h or faster.
Life-proof design
Spills, bumps and scrapes are a part of life, but knocking your precious phone is enough to send a shiver down anyone's spine. As long as it's made of sufficiently tough stuff, though, you can relax. Galaxy Z Fold5 has a revamped design that's lighter, thinner and tougher, making it even more resistant to damage, drops and random spills. And thanks to Gorilla® Glass Victus® 2 and Armour Aluminium, the Galaxy Z Flip5 is super-robust – while its IPX8 water resistance means you can keep snapping photos even if you're stuck in the rain at a festival.
S Pen Fold Edition sold separately.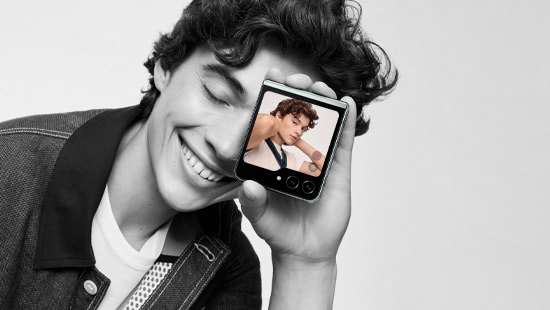 Keep going and going
OK, battery chat doesn't sound that interesting. But has your phone ever died on a long train journey? Or in the middle of a day at work when you forgot to pack your charger? Then you'll know that a long-lasting battery is actually a low-key life enhancer. With the Galaxy Z Flip5's all-day battery life, you can keep calling, texting and scrolling without worrying that you'll run out of power. Meanwhile, the Galaxy Z Fold5's enhanced battery life allows you to stream entertainment or play optimised games like Call of Duty and Spiderman for up to 1.3 hours longer. Meaning more fun, for longer.