Living better with tech
We want to make sure technology adds to the lives of families and young people, through better online safety, healthier digital habits, and sharing magical moments together.
Read More
Six tips for a better relationship with technology
Chat about what's right for you and your family
As with many things, what works for one family may not work for another. Try having a conversation together about what balance and healthy digital habits mean to you. The online world is an exciting place – explore it together whilst having a conversation about how to be safe, kind and get the most out of your technology in a way that works for you.
Manage your alerts so you're only interrupted by the important stuff
Take some time out to review the notifications you get. Most apps notify you by default, but you may find them distracting. Have a look at your notification settings and take control of your phone, so it works for you as and when you need it. Check out our helpful tutorials on how to adjust the notification settings of your device, or pop in store and speak to one of our Gurus.
Clear the clutter
When's the last time you did a spring clean of your phone? Have a think about what apps you no longer use and whether you could remove some of them altogether.
Think about your sleep hygiene
Have you considered turning your phone off for an hour before bedtime? Or charging it in a different room over night? Removing your phone from your bedroom or taking a break before you go to sleep may help you unwind at night. And it could form an important part of your kid's bedtime routine, helping them to prepare for an uninterrupted night's sleep. Out of sight, out of mind.
The digital diet
Do you ever think about how the images and information you consume every day affect you? Reflecting on how you feel after looking at your social media feed or reading a particular news outlet may be a helpful way of working out the best digital diet for you. You may want to change who you follow, how you stay up to date, or even the information and images you share.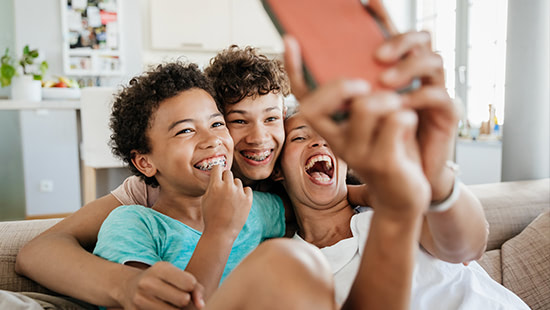 Stay up to date
There are lots of opportunities out there to learn and be inspired. As a family, explore some apps that are educational and use the online world to make the offline better. And if you'd like to know more about what apps your kids are already using, have a look at Net Aware which offers tips and advice on the top kids apps.
More ways to live better with tech
O2 and NSPCC

We've partnered with the NSPCC to help you keep your kids safe online. Find out more.

O2 Family

Parenting is hard. That's why we've put together a unique package of tools and services to help. Find out more.

First phones for kids

We can help you find your child's first phone. And make sure it's safe. Find out more.

Find a whole family of products

Get the latest phone. Or save some cash with a Like New refurb. Visit our shop.

O2 and YoungMinds

O2 have partnered with YoungMinds to launch their joint campaign #OwnYourFeed. The #OwnYourFeed campaign empowers young people to take control of their social media feed.
Things you should know
Where can I find advice about how to use my device?

I'm concerned about the content my children are looking at online, what should I do?

Where can I find out more about online safety for kids?

How do I set up parental controls on my devices?

What does the tech jargon mean?

How do I get Family Plan discounts?