Get mates rates
Get 20% off airtime when you add extra devices or sims directly from us, with Multisave.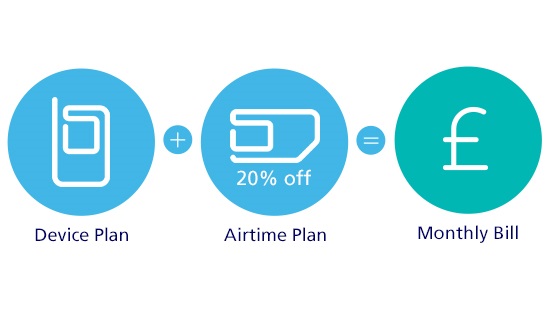 Get 20% off the Airtime Plan of every new eligible Pay Monthly connection you add to your Multisave. You can add up to 20 connections*. Exclusions apply.

For example, if you add a new Pay Monthly connection that costs £19 a month for the device plan, and £16 a month for the Airtime Plan, you will save 20% off the Airtime Plan. Your Airtime Plan will then be £12.80 a month, saving you £3.20 a month. If you add a Pay Monthly sim only contract, your discount will be taken off the Airtime Plan.
Buy a phone, tablet or sim directly from us and on an eligible tariff.
Text LOYALTY to 21500 from your new number, within 28 days.
Your discount will be applied within three working days.
Manage all your connections with one simple bill.
What are the exclusions for Multisave?

The airtime discount is only applied to the additional connections, not the initial connection.

Out-of-bundle and premium-rate charges are excluded. The discount is a percentage of the Airtime Plan only.

Business tariffs and any other tariffs bought through a third party aren't eligible.

Standard tariffs, sharer plans Pay As You Go sims or O2 Refresh tariffs and sim only tariffs that already have a discount applied are not eligible for the Multisave airtime discount.

---

Check your Multisave eligibility

Use our eligibility checklist to see if you can claim this offer.

The lead connection is on a Pay Monthly or sim only tariff.
To get the airtime discount, make sure you have an existing Pay Monthly or sim only tariff that isn't already discounted, or part of another promotion. Check with an O2 Guru if you're unsure.
You've taken out a new eligible O2 Refresh or sim only contract.
All connections are registered under the same billing address as the lead device.

---

What if I didn't get my contract directly through O2?

If you didn't get your connection directly from us, it won't be eligible for the Multisave discount. However it would still qualify as a lead connection.

---