Get the most out of mobile gaming
Mobile gaming has come a long way since the early days. Here's how you can keep gaming on the go.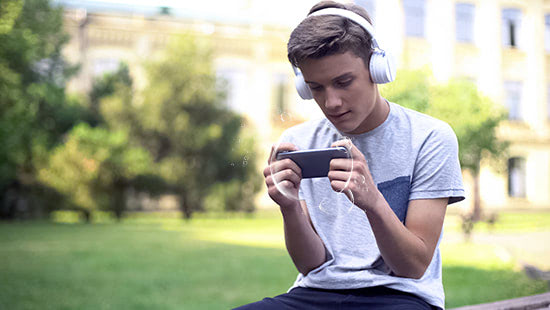 5G keeps you connected
Gaming by yourself is great, but gaming with friends and family is even better. Through the power of the internet, we've been able to spend time with our friends – and make new ones – in entirely new ways. Now, with the power of 5G, you can play even more graphically intense and fast paced games, without worrying about lag or a dropped connection.
Get the right gear for your gaming
Some of the best games we love are now on android and iPhone such as Assassins Creed and Resident Evil. But we can't talk about gaming and not talk about consoles and accessories. Check out our range of headphones, handheld consoles, chargers and more.
Carry on gaming with O2 Wifi
No need to eat into your data, we've got over 16,000 O2 Wifi hotspots across the UK that will keep you connected when you're out and about – all you need to do is register at one, it's that easy. What's more it's up to 10 times faster than a normal mobile connection, so you can carry on gaming on your phone wherever you're heading.