Get up to six months of Disney+ on us
With our latest plans. Not ready to upgrade? Get Disney+ for £2 less a month when you add it to your plan.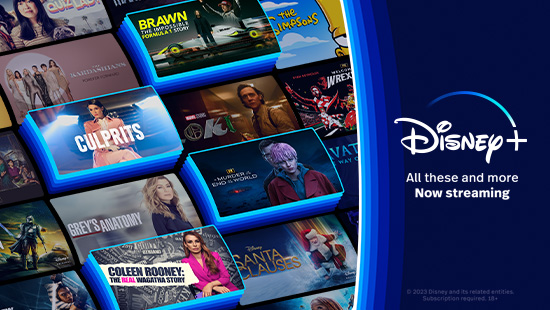 Unbelievable entertainment. Now Streaming.
Stream brand new originals, blockbusters, binge-worthy series and more on Disney+. There's something for everyone to enjoy with new entretainment added every week, all ad-free on the Premium plan.

You can download any series or movie on up to 10 devices to watch whenever you want, without having to hunt down Wi-Fi. And watch on the best device for you – mobile, tablet, computer, or TV.

Plus, with the Premium Disney+ plan you can stream at up to 4K UHD & HDR video on four screens at once. Set up child friendly profiles, so while you're enjoying the latest series or movie, you don't need to worry about what the kids are watching in the other room.

Get your Disney+ Extra
Whether you're new to O2 or upgrading, you can get up to 6 months of Disney+ on us*, with our latest plans. Simply choose it as your Extra when you checkout.

Not ready for an upgrade? Add Disney+ Premium plan as an Extra to your current plan via My O2 for £7.99 a month (worth £10.99), and we'll give you a further £2 a month off your bill.

Already got Disney+? That's no reason to miss out on up to 6 months on us. You can choose Disney+ as an Extra even if you're already a subscriber. Check out our Disney+ Extra FAQs for more info.
Culprits
Family man Joe Petrus is living the American dream with his fiancé and step-kids. However, unbeknown to them, Joe was involved in a mysterious crime three years ago and now his dangerous past is about to catch up with him. When a killer starts targeting the crew behind the crime, Joe realises it's only a matter of time before his family is targeted. He returns to London to track down his old gang and find out who's coming after them.
How do I get the Disney+ Extra?

If you're joining O2 or upgrading, you can choose Disney+ as your included Extra when completing your order online, in store or over the phone. Your Extra will last for one, three or six months, depending on the tariff you've chosen.


| | Three month Extra, on us | Six month Extra, on us |
| --- | --- | --- |
| Pay Monthly phone | Non-Plus Plans | Plus Plans |
| 12 month Pay Monthly sim | Non-Plus Plans | Plus Plans |
| 24 month Pay Monthly sim | Non-Plus Plans | Plus Plans |
| Pay Monthly tablet | Non-Plus Plans | Plus Plans |

Tariffs sold through other parties or partner channels may not have the same benefits compared to direct purchases from O2.

If you're already an O2 customer and you're not ready to upgrade yet, you can add Disney+ as a paid Extra to your monthly bill – just go to My O2 or call us on 202 from your O2 mobile to get it added. You can get our Disney+ offer in My O2 by going to the 'Offers' or 'Extras' section.

---

Can I have Disney+ as an included or paid Extra if I'm already a subscriber?

Yes. As an existing Disney+ subscriber, you'll still be able to choose a Disney+ Premium plan from O2 Extras (either three or six months on us if you join O2 or upgrade, for £7.99 a month (worth £10.99) and get a further £2 a month airtime discount during your contract term). Disney+ will get in touch shortly by email to let you know how to manage your subscriptions in order to avoid double billing.

---

Are there any special conditions for the Disney+ paid Extra?

You'll need to commit to your Disney+ Extra for a minimum of six months. Other than that, it's just the same as a normal Disney+ subscription. And don't forget, we'll give you £2 a month off your bill while you've got the paid Disney+ Extra.

---

When will the £2 airtime discount be added to my account?

When you sign up for the Disney+ Premium plan Extra, we'll send you a link to activate it. As soon as you've done that, we'll add the £2 monthly discount to your airtime plan. If you add it part-way through a billing month, both the £7.99 monthly cost of the Disney+ Extra (worth £10.99) and the £2 discount will be added on a pro-rata basis.

---

After the 6-month minimum, will I still get £2 a month off my airtime bill?

Yes, we'll give you £2 off your bill each month for as long as you keep the paid Disney+ Extra.

---

If I'm paying for the Disney+ Extra and I upgrade, can I get the included Disney+ Extra?

Yes. When you upgrade, you'll have 28 days to choose your included Extra. You can keep your paid Disney+ Extra and choose a different included one, or you can choose the Disney+ Extra and we'll cancel your paid one, along with the £2 monthly discount.

---

How does the Disney+ Extra compare to other Disney+ plans?

The Disney+ Extra provides the best experience of Disney+ with the Premium plan. The other plans offered by Disney+ are Standard and Standard With Ads.

Premium: Up to 4K UHD & HDR video. 4 concurrent streams. Downloads on up to 10 devices. Up to Dolby Atmos audio. Ad-free streaming.
Standard: Up to 1080p Full HD video. 2 concurrent streams. Downloads on up to 10 devices. Up to 5.1 audio. Ad-free streaming.
Standard With Ads: Up to 1080p Full HD video. 2 concurrent streams. Up to 5.1 audio.

More information on the different Disney+ plans can be found here.

---

How do I cancel my Disney+ Extra?

You can cancel your Extra at any point in My O2.

If you have chosen a free Extra, follow these steps:

Log in to My O2 and go to your 'Account summary'
Press the '+' under the 'Your Extras' section
Select 'Manage this Extra' on the Extra you're looking to change
Press the 'Turn auto-renewal off' button to cancel your Extra

You can also cancel your free Extra within the My O2 app. Go to 'Account Summary' – 'Manage your account' – 'Your Extras' and follow the same steps outlined above.

If you have chosen Disney+ as a paid Extra, you'll need to commit for a minimum of six months. You will be able to cancel your Disney+ Extra after the initial six months. Follow the steps above, after your minimum term, to cancel your Disney+ Extra.

You can also contact us and we'll help you cancel your Extra.

---

Disney+ FAQs

What type of content can I watch on Disney+?
There are over 500 films, 15,000 episodes and 80 Disney+ originals available on Disney+. They're always adding more content to our library so there's always something to enjoy.

How can I ensure my family only have access to age-appropriate content?
You can have peace of mind knowing Disney+ remains suitable for the whole family. Disney+ offers multiple parental controls like kid's profiles, profile PIN protection and content ratings to ensure young viewers are watching child-friendly content.

How do I get Disney+ on my TV?
If you're not sure whether Disney+ is available on your TV, you can check the devices supported by Disney+. If it's available on your TV, there are several ways to stream Disney+. Read on to find the one that works for you.

If you have a Smart TV (a TV that connects to the internet), or other TV connected device, like a video game console or a streaming stick*, follow these steps:

Launch the Disney+ app on your Smart TV or TV connected device
Select Log In
Visit DisneyPlus.com/begin from a computer or mobile browser If you're having trouble accessing this link, please switch to an incognito or private window on your browser and try the link again.
Enter the 8-digit code that appears on your TV screen
Follow the prompts to log in to your Disney+ account on your computer or mobile device
Once logged in, you'll see your TV screen refresh with a successful activation prompt
Select Start Streaming to enjoy Disney+ content on your device

Please note, if you're ever logged out of the Disney+ app on your Smart TV or TV connected device, you'll need to follow these activation steps again before streaming.

*Users on a mobile device or computer browser should follow these steps to log in.

---