Get up to six months of Disney+ on us
With our latest plans. Not ready to upgrade? Get Disney+ for £2 less a month when you add it to your plan.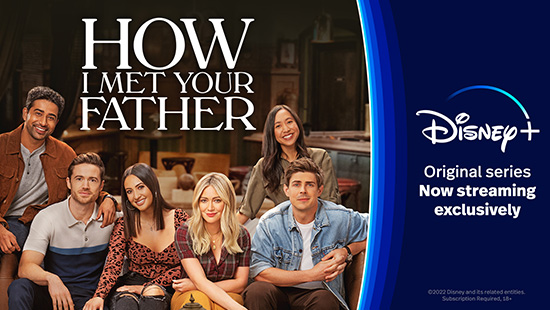 The stories you love. All in one place.
Find more than you expected on Disney+, and stream exclusive originals you can't see anywhere else. Plus, more endless entertainment from the worlds of Disney, Pixar, Marvel, Star Wars and general entertainment brand Star.

You can download any series or movie on up to 10 devices to watch whatever you want, whenever you want, without having to hunt down wifi. And watch on the best device for you – mobile, tablet, computer or TV.

Plus, you can stream on four screens at once and set up child friendly profiles, so while you're enjoying How I Met Your Father you don't need to worry about what the kids are watching in the other room.
Get your Disney+ Extra
Whether you're new to O2 or upgrading, you can get up to 6 months of Disney+ on us*, with our latest plans. Simply choose it as your Extra when you checkout.

Not ready for an upgrade? Add Disney+ as an Extra to your current plan via My O2 for £7.99 a month, and we'll give you £2 a month off your bill.

Already got Disney+? That's no reason to miss out on up to 6 months on us. You can choose Disney+ as an Extra even if you're already a subscriber. Check out our Disney+ Extra FAQs for more info.
Streaming soon on Disney+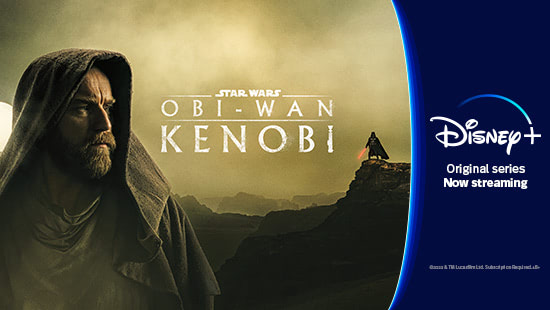 Obi-Wan Kenobi
The story begins 10 years after the dramatic events of "Star Wars: Revenge of the Sith" where Obi-Wan Kenobi faced his greatest defeat—the downfall and corruption of his best friend and Jedi apprentice, Anakin Skywalker, who turned to the dark side as evil Sith Lord Darth Vader.
How do I get the Disney+ Extra?

If you're joining O2 or upgrading, you can choose Disney+ as your included Extra when completing your order online, in store or over the phone. Your Extra will last for one, three or six months, depending on the tariff you've chosen.

| | One month Extra, on us | Three month Extra, on us | Six month Extra, on us |
| --- | --- | --- | --- |
| Pay Monthly phone | 0GB - 4GB tariffs | 5GB - 29GB tariffs | 30GB+ tariffs and selected 10GB Plus Plans |
| 12 month Pay Monthly sim | 0GB - 5GB tariffs | 6GB - 49GB tariffs | 50GB+ tariffs and selected 30GB Plus Plans |
| 24 month Pay Monthly sim | 0GB - 5GB tariffs | 6GB - 49GB tariffs | 50GB+ tariffs and selected 10GB and 30GB Plus Plans |
| Pay Monthly tablet | N/A | 0GB - 1GB tariffs | 2GB and above tariffs |

If you're already an O2 customer and you're not ready to upgrade yet, you can add Disney+ as a paid Extra to your monthly bill – just go to My O2 or call us on 202 from your O2 mobile to get it added. You can get our Disney+ offer in My O2 by going to the 'Offers' or 'Extras' section.

---

Can I have Disney+ as an included or paid Extra if I'm already a subscriber?

Yes. As an existing Disney+ subscriber, you'll still be able to choose a Disney+ promotion from O2 Extras (either three or six months on us if you join O2 or upgrade, or £7.99 a month and get £2 a month airtime discount during your contract term). Disney+ will get in touch shortly by email to let you know how to manage your subscriptions in order to avoid double billing. If you've got questions about how adding the Disney+ promo will affect your existing subscription, head to the Disney+ Help Centre.

---

Are there any special conditions for the Disney+ paid Extra?

You'll need to commit to your Disney+ Extra for a minimum of six months. Other than that, it's just the same as a normal Disney+ subscription. And don't forget, we'll give you £2 a month off your bill while you've got the paid Disney+ Extra.

---

When will the £2 airtime discount be added to my account?

When you sign up for the Disney+ paid Extra, we'll send you a link to activate it. As soon as you've done that, we'll add the £2 monthly discount to your airtime plan. If you add it part-way through a billing month, both the £7.99 monthly cost of the Disney+ Extra and the £2 discount will be added on a pro-rata basis.

---

After the 6-month minimum, will I still get £2 a month off my airtime bill?

Yes, we'll give you £2 off your bill each month for as long as you keep the paid Disney+ Extra.

---

If I'm paying for the Disney+ Extra and I upgrade, can I get the included Disney+ Extra?

Yes. When you upgrade, you'll have 28 days to choose your included Extra. You can keep your paid Disney+ Extra and choose a different included one, or you can choose the Disney+ Extra and we'll cancel your paid one, along with the £2 monthly discount.

---

How do I pay for Premier Access?

Premier Access isn't part of your Extra and will need to be paid for separately. You can get Premier Access by going to the Disney+ website. If you need help with Premier Access visit the Disney+ Help Center.

---

How do I cancel my Disney+ Extra?

You can cancel your Extra at any point in My O2.

If you have chosen a free Extra, follow these steps:

Log in to My O2 and go to your 'Account summary'
Press the '+' under the 'Your Extras' section
Select 'Manage this Extra' on the Extra you're looking to change
Press the 'Turn auto-renewal off' button to cancel your Extra

You can also cancel your free Extra within the My O2 app. Go to 'Account Summary' – 'Manage your account' – 'Your Extras' and follow the same steps outlined above.

If you have chosen Disney+ as a paid Extra, you'll need to commit for a minimum of six months. You will be able to cancel your Disney+ Extra after the initial six months. Follow the steps above, after your minimum term, to cancel your Disney+ Extra.

You can also contact us and we'll help you cancel your Extra.

---

What is Star?

On 23 February, Disney+ introduced Star as the sixth brand to launch on the platform, joining entertainment favourites Disney, Pixar, Marvel, Star Wars and National Geographic.

Star will become the home for general entertainment promising more TV series, more movies and more originals including titles from Disney Television Studios, FX, 20th Century Studios and 20th Television.

Star is included as part of the Disney+ O2 Extra's subscription.

---

Disney+ FAQs

How many streams can I view at the same time?
You can stream Disney+ content on up to four devices at once. Downloaded content doesn't count towards this total.

Can you have family accounts/multiple profiles on Disney+?
Yes, you can create up to seven profiles per Disney+ account, so everyone in the family can personalise their viewing experience.

Can I download films on my mobile device to watch offline?
Downloads are great for watching Disney+ when you're on the go. You can playback downloaded content without an Internet connection.

You can download Disney+ content on up to ten phones or tablets using Apple or Android.

Can I watch Disney+ abroad?
When you're abroad, you can watch any downloaded content in offline mode. If you're online in a location where Disney+ is available, you'll also able to watch any available content in that region. If Disney+ isn't available where you are, you won't be able to stream from Disney+, but you'll be still be able to watch your downloaded content in offline mode.

What type of content can I watch on Disney+?
Disney+ brings you Disney, Pixar, Marvel, Star Wars, National Geographic and Star – all in one place. It gives you endless access to hit movies, new originals and binge-worthy series from all five brands. The growing library includes exclusive originals like The Mandalorian, and 20th Century Studios hits like The Simpsons. There's always something new to discover.

How can I ensure my family only have access to age appropriate content?
You can keep peace of mind knowing Disney+ remains suitable for the whole family. The new parental controls launched on 23 February, will allow you to take full control of their watch lists. Restricting access to age appropriate content only. You can also add a PIN to lock profiles from viewing more mature content. Perfect for the younger members of the family.

Find out more about Disney+.

How do I get Disney+ on my TV?
If you're not sure whether Disney+ is available on your TV, you can check the devices supported by Disney+. If it is available on your TV, there are several ways to stream Disney+. Read on to find the one that works for you.

If you have a Smart TV (a TV that connects to the internet), follow these steps:

Once you've signed up, turn on your TV, check it's connected to the internet, and open 'Apps'. There's probably an 'Apps' button on your TV remote, but if not, try scrolling left from the home screen.
Using the search box, search for 'Disney+'.
Select the Disney+ icon and click 'Add to Home' or 'Install'.
Open the Disney+ app from your home screen and log in, using the details you signed up with.

If you have an older TV that doesn't connect to the internet, follow these steps:

Go to www.disneyplus.com/en-gb
Log in to Disney+ and choose the show you want to watch.
If you're using a laptop, connect your laptop to your TV with an HDMI cable. This will move the picture from your laptop to the TV screen, and you'll be able to use your laptop's trackpad to start playing your show. If you're using an Apple Mac, you might need a Thunderbolt to HDMI adapter as well as the HDMI cable.
If you're using a phone, connect your phone to your TV using both an HDMI cable and an HDMI-USB adapter. Make sure you have the right adapter to match the USB slot on your phone – newer phones use USB-C, while older phones use USB-B.

Another way to watch Disney+ on an older TV is to buy a Chromecast or Amazon Fire stick, and use that to "cast" the show from your laptop or phone to your TV. If you choose to do this you won't need an HDMI cable.

Finally, if you have an Xbox One/Xbox One X or a PS4/PS4 Pro, you can download the Disney+ app from the appropriate Store, then follow the sign-in process to start watching. Before you can do this, you'll need to have signed up for Disney+.

---