Get Apple Watch deals with O2
Want a brand new Apple Watch? Get it on O2. Apple Watch is available to O2 Pay Monthly customers with an iPhone 6s or newer (Apple Watch Series 4 also compatible with iPhone 6). Don't worry if you're new to O2 or don't currently have a compatible iPhone – buy a new iPhone with us, then simply add your Apple Watch to your plan. Shop the latest Apple Watch at O2.
The future of health is on your wrist.
With a new sensor and app to measure blood oxygen*, heart health notifications and other health features, Apple Watch Series 6 is the watch that watches over you.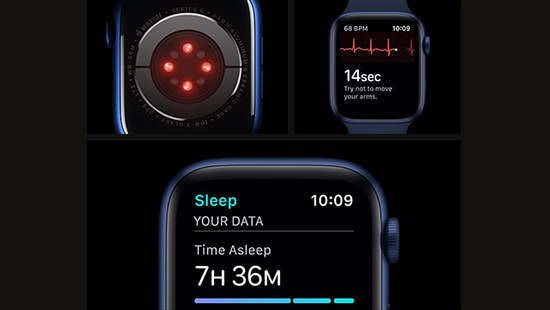 Advanced health features on your wrist.
Check your blood oxygen level. Keep an eye on your heart with notifications for high and low heart rate. Protect your hearing with the Noise app. And easily track your menstrual cycle. Apple Watch Series 6 also has great safety features like fall detection, Emergency SOS, and international emergency calling. Advanced health features are always within reach.
Freedom to go without your phone.
Apple Watch Series 6 has a built-in cellular connection, so you can stay connected even when you leave your phone behind. Take calls and answer messages from the trail. Stream your favourite music, podcasts, and audiobooks. And get help quickly with Emergency SOS and international emergency calling. With Apple Watch Series 6 and cellular, leaving your phone behind is something you can do on purpose.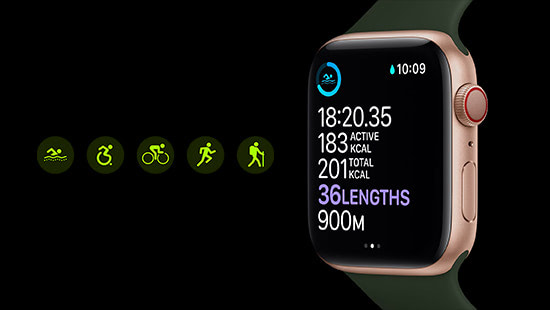 Pushed further. To push you further.
Track your workouts and activity more precisely than ever—in the water, at the gym, or on the road. See your metrics without raising your wrist on the enhanced Always-On Retina display. Go to new heights, lengths, and depths with GPS, real-time elevation, and the built-in compass for navigation. Close your Activity rings for a healthier day. And stay inspired to keep moving by streaming music, podcasts, and audiobooks from your watch.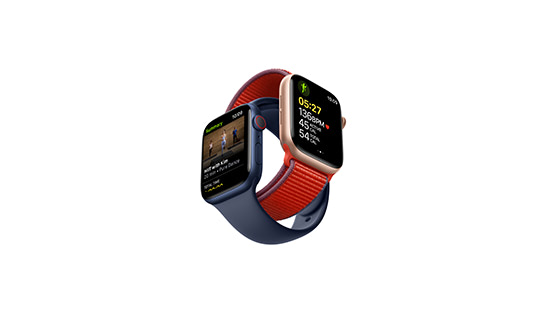 The ultimate fitness experience. Powered by Apple Watch.
Apple Fitness+ keeps you motivated like never before. Sync your personal metrics from Apple Watch to your iPhone, iPad, and Apple TV, so you can follow your workout progress onscreen.

Choose from 10 workout types featuring the world's best trainers, with new workouts added every week. And get handpicked music from your favourite artists to keep you moving.
FAQs
Which iPhones can I use with Apple Watch?

Apple Watch Series 3, Series 4, Series 5, Series 6 and Series 7 are compatible with these models, running the latest version of iOS:

iPhone SE
iPhone 6 and iPhone 6 Plus (Apple Watch Series 4 only)
iPhone 6s and iPhone 6s Plus
iPhone 7 and iPhone 7 Plus
iPhone 8, iPhone 8 Plus and iPhone X
iPhone Xr, iPhone Xs and iPhone Xs Max
iPhone 11, iPhone 11 Pro and iPhone 11 Pro Max
iPhone SE 2020
iPhone 12, iPhone 12 Pro, iPhone 12 Pro Max and iPhone 12 mini
iPhone 13, iPhone 13 Pro, iPhone 13 Pro Max and iPhone 13 mini

Do I need to insert the eSIM?

No. The Apple Watch has a built in eSim, which can't be removed. Once you've set up your eSim, you'll be good to go.

How do I charge my Apple Watch?

Plug the Apple Magnetic Charging Cable into the USB power adapter, and plug the adapter into a power outlet. Then place the charger on the back of your Apple Watch. The magnets will connect and it'll start charging.

I already have an Apple Watch – how do I get an O2 Airtime Plan?

If you already have an O2 Pay Monthly contract, and you already own an Apple Watch, you can set up mobile data via the Apple Watch app on your iPhone.

What Apple Fitness features are available on Apple Watch?

Monitor your heart rate, calories and distance all from your wrist on the Apple Watch. Track individual workouts, from yoga to rowing, to get a personalised workout summary. Access Apple Fitness on the Fitness+ tab on your Apple Watch and the Fitness app on your iPhone.

When is the new Apple Watch release date?

Pre-order the new Apple Watch Series 7 series on O2 from 1pm Friday 8 October. They will be available a week later, on Friday 15 October.

Is the Apple Watch waterproof?

The Apple Watch is water resistant, but not waterproof. It can withstand sweat during an exercise but cannot be submerged.

What is the latest Apple Watch?

The latest Apple Watch model in the new Watch Series is Apple Watch Series 7. Get them on pre-order O2 from 1pm Friday 8 October. They will be available a week later, on Friday 15 October.

Is there an Apple Watch for men?

Apple Watches are generally unisex, but they come in a range of sizes. The bigger watch, measuring 42mm, may be more suitable for men.

Where can I buy an Apple Watch for women?

Apple Watches come in a range of sizes, rather than having a separate design for men and women. The smaller size, measuring at 38mm, is recommended for most women. If you want to purchase the new Apple Watch 7, you can also choose the 41mm and 45mm sizes.

What are the different Apple Watch sizes?

The Apple Watch Series 3 comes in two different sizes: 38mm and 42mm. The Apple Watch Series 4, 5 and 6 come in 40mm and 44mm. The Apple Watch Series 7 comes in 41mm and 44mm.