Apple Music, Apple TV+ and Apple Fitness+. Try them all for free.
Listen to over 100 million songs ad-free. Watch award-winning Apple Originals. And choose world-class workouts by the world's top trainers.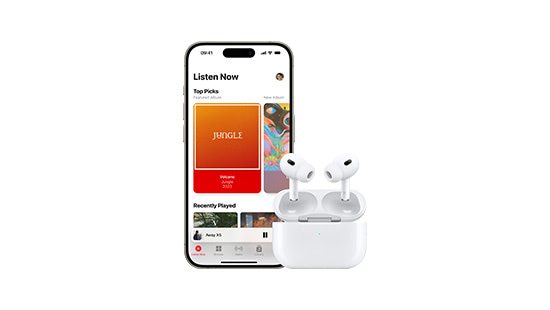 Apple Music
Apple Music gives you access to over 100 million songs and 30,000 playlists, ad-free. Listen online or off, across all your devices, and hear sound all around in Spatial Audio with dynamic head tracking. Apple Music Classical is included with your subscription, giving you access to the world's largest classical music catalogue.
Get up to six months' free Apple Music when you buy a Plus Plan, and up to three months with non-Plus Plans.
Apple TV+
Apple TV+ offers star-studded, award-winning series and films, including dramas, comedies, documentaries and kids' favourites. There are new Apple Originals added every month. Stream on the Apple TV app, available on Apple devices, smart TVs, game consoles and sticks.

Enjoy 3 free months of Apple TV+ when you buy an eligible Apple device.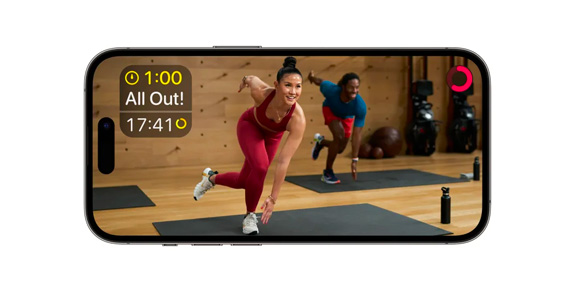 Apple Fitness+
Join the world's most inclusive fitness service and access thousands of 5 to 45 minutes workouts and meditations. Explore new workout types every week, from HIIT to Yoga – for all levels. You can find it in the fitness app on your iPhone.

Get up to four months' free Apple Fitness+ when you buy a new Apple Watch with any tariff.
More about Apple Services with O2
How do I get Apple Services?

If you're joining O2 or upgrading, you can get Apple Services (Music, Fitness+ and TV+) on selected tariffs and devices when completing your order online, in store, or over the phone.

You'll get three, four or six months depending on the tariff you've chosen. Take a look at the table below to learn more.

You can find out more about our Plus Plans, or browse our shop to choose your Plus Plan tariff. And, if you're not sure which tariff you're currently on, you can check on My O2.


Get up to 3 months Apple Music
Get up to 6 months Apple Music
Pay Monthly phone
Non-Plus Plan Tariffs (5GB+)
All Plus Plan Tariffs
12 Month Pay Monthly Sim
24 Month Pay Monthly Sim
Pay Monthly Tablet
N/A

| | Get up to 4 months Apple Fitness+ |
| --- | --- |
| Apple Watch Purchases | Apple Watch SE or later. |

| | Get up to 6 months Apple TV+ |
| --- | --- |
| New iOS Handsets with a Plus Plan | All O2 stocked iPhones. |
| New iOS Tablets with a Plus Plan | All O2 stocked iPads. |

---

What is Apple Services?

Apple Music

Apple Music is a streaming service that allows you to listen to over 90 million songs. Its great features include the ability to download your favourite tracks and play them offline, lyrics in real time, listening across all your favourite devices, new music personalised just for you, curated playlists from our editors, and many more. All this in addition to exclusive and original content.

Apple TV+

Apple TV+ is a streaming service featuring Apple Originals — award-winning series, compelling dramas, ground-breaking documentaries, kids' entertainment, comedies, and more — with new Apple Originals added every month.

Apple Fitness+

Apple Fitness+ is a fitness service powered by Apple Watch. You can choose from a catalogue of workouts and meditations led by expert trainers ranging from 5-45 minutes. In-session metrics, like heart rate and calories burned, are synced to your iPhone, iPad or Apple TV, so you don't have to take your eyes off your workout or meditation to see how you're doing. It's like your Apple Watch is on the screen.

---

How do I redeem the offer?

If you've purchased an eligible airtime tariff, product or accessory on a Device Plan, we'll send you an SMS in the next few days with a link to your Apple Service. Enter your details to subscribe and start enjoying your favourite Apple Music tracks, TV+ Originals and Fitness+ Workouts.

---

How long is my link valid for?

Your link is valid for up to 90 days after the promotion end date.
Apple Music promo ends 28 March 2024. Apple TV+ and Fitness+ promo ends 31 August 2024.

---

Can I redeem all three Apple Services (Apple Music, Apple Fitness+ and Apple TV+) offers from O2?

Yes. You can claim our offers when you buy eligible products.

TV+: New and returning customers are eligible to redeem up to 6m TV+, existing customers are not eligible to redeem

---

Can I redeem the services if I've already claimed Apple Music, Apple Fitness+ and Apple TV+ from O2?

No. You can only claim each Apple service offer from us once, even if you buy another eligible tariff or product.

---

What is the Apple Music Classical app?

With the Apple Music Classical app, you can access the world's largest classical music catalogue. Search by composer, work, conductor and more to quickly find any recording. Explore composers, periods, instruments and more through curated playlists and composer biographies. Get detailed information about what you're listening to. And access more features for listening to classical music.

---

Am I entitled to Apple Music Classical, with my regular Apple Music voucher from O2?

Yes – Apple Music vouchers from O2 provide access to the 'individual' subscription tier of Apple Music, which provides access to the Apple Music Classical app.

---

More information about your Apple ID, Apple Music, Apple Fitness+ and Apple TV+

What is an Apple ID and why do I need one?
Your Apple ID is the personal account you use to access Apple services like the App Store, iCloud, Messages, Facetime, and more, using the same login credentials. It includes the information you use to sign in, as well as the contact, payment, and security details that you'll use across Apple services. Your Apple ID allows you to access Apple Music, Fitness + and TV+.

How do I create an Apple ID?
Go to 'appleid.apple.com' and select 'Create your Apple ID'. Android users can create an Apple ID in the Apple Music app as part of the sign-up process. If you're creating an Apple ID for the first time when you activate your subscription, your Apple ID will be your phone number. You can use this to sign into Apple Services on all your devices and online.

Apple Service FAQs
Apple Music (https://support.apple.com/en-gb/music)

Apple Fitness+ (https://support.apple.com/en-gb/HT211922)

Apple TV+ (https://www.apple.com/uk/apple-tv-plus/)

---