Endpoint security
Protect endpoints and defend against cyber threats
Stay ahead of potential cyber attacks
Security should adapt to changing habits and workstyles.
Our AI-powered, cloud-based endpoint security keeps you ahead of real-time threats. It follows the user and not the network and applies a security blueprint anywhere on any
device – whether BYOD or corporate, to enforce a consistent security policy at all times.

Why choose Endpoint security?
Stops malware
With our Endpoint Detection and Response, we can help you stop malware and block exploits that lead to breaches, to improve and enable a quicker response with your security operations.
Round the clock protection
Using our Managed Endpoint Detection and Response solution, we give you 24/7 protection and provide detailed reports of any attacks so you can understand exactly what has happened.
Full visibility
Our Mobile Threat Protection will give you full visibility of mobile risks and advanced protection against threats to the OS, apps and network.
Reduce your costs
We can help you reduce your costs and improve your security with modern, over-the-air management of every endpoint with Unified Endpoint Management.
Expert support
We'll help you combine your own in-house resources with our expertise and build up the right security portfolio to protect your organisation, your employees and your brand.
End-to-end security
As a tier one network provider, we know what it takes to securely manage a global network and digital presence – giving you protection that runs from device to network and on to the cloud.
Endpoint security solutions
Unified Endpoint Management
• Provides full visibility of all your connected devices from a single management portal.
• Create profiles for groups of people to provide consistent experiences across all endpoints
• Presents three platform options depending on your needs: Workspace One, Microsoft Intune/EM&S or MaaS360.
Endpoint Detection and Response (EDR)
• A single, cloud-delivered agent for EDR that provides everything you need to secure all endpoints
• Analyses files before and after they execute to identify the tell-tale signs of attacks, including zero-day malware and script-based attacks
• Easily deployed to all your endpoints so you can instantly start blocking advanced attacks.
Managed Endpoint Detection and Response (MEDR)
• Managed EDR with 24/7 security services that prevent and block attacks in real-time
• Provides functional feedback and administrative support, reducing operational costs
• Shows you where malware has traversed your network and provides reports to help you comply with regulatory standards.
Mobile Threat Protection
• Offers a market-leading mobile threat defence solution to keep your organisation safe
• Gives you enterprise mobile security that protects against threats to your OS, apps and network
• Leverages best-in-class threat prevention technology to give you the highest threat catch potential in the industry.
The need for a proactive approach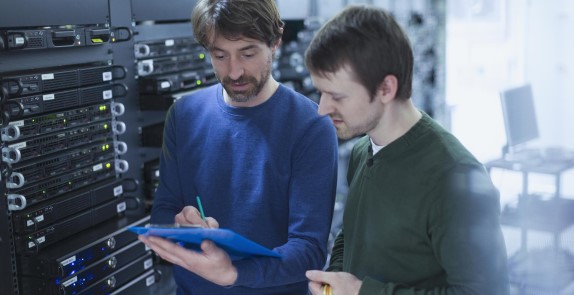 Businesses have focused on perimeter defences and guarding known devices, but the traditional approach to cyber security isn't enough to defend against today's cyber threats.
In our cloud-enabled mobile economy, there's no longer a perimeter to defend. Work takes place in environments that organisations don't control, on devices they don't support, and on infrastructures they don't manage. And as business have shifted more to the cloud, so have cyber attackers.
Find out about O2 cyber security solutions
Read our Endpoint security overview

Get a snapshot of all our cyber security solutions

Cyber security chat mat overview
Get in touch
We're here to help your business.