5G private networks
Digital transformation for manufacturing and industry
Game-changing capabilities
Private networks have been around for some time now, delivering the secure, reliable connectivity required to deploy and manage business-critical processes. With 5G private networks, it's no longer just about providing secure connectivity, but also driving the digital transformation of industrial companies.
Why choose a 5G private network?
Enhanced security
Achieve high levels of data and device security. Create and manage your own security policies and mitigate against cyber-attack and data breaches by storing and processing data locally.
You have complete control
Through the use of slicing, you can give maximum priority to mission-critical applications like autonomous ground vehicles, whilst reducing priority for routine asset tracking and sensor monitoring.
Low latency
With far lower latency than 4G and other wireless technologies, 5G enables ultra-fast communication between devices, critical for autonomous ground vehicles, automation, robotics, and applications.
High bandwidth with 5G
Allows vast quantities of data to be transmitted over the network, enabling simultaneous communication between the huge number of devices that the smart plant/site of the future will need.
Reliability and flexibility
Unlike wifi where signals could be blocked, a 5G private network can enable industrial applications where absolute reliability is essential, through walls and buildings without obstruction.
Work with a team of specialists
If you're looking at digital transformation and want to understand how a 5G private network can help enable it and embrace the changes, we're here to help you on your journey.
Applications for a 5G private network
Embrace the Industry 4.0 ecosystem with access to automation and robotics applications that cannot be deployed without the core, critical capability of a 5G private network.
Automated Ground Vehicles (AGV)
Increasingly, AGVs are used in logistics and manufacturing support, and will need 5G capabilities to be able to navigate and position themselves accurately and safely within factories and plants.
Vehicle platooning
Where two or more vehicles are connected with 'vehicle to-vehicle communication', allowing them to communicate with each other and operate as a single unit.
Collaborative robots
Where humans and robots interact within a shared space. 5G's low latency and high reliability can maintain worker safety and introduce improvements in robotic efficiency and production automation.
Remote operations / teleoperations
Where 5G can be used to control premises, facilities and operations remotely. In construction, we've enabled crane operators to control several cranes safely from the ground.
Predictive maintenance
Monitor all mission-critical equipment and predict maintenance requirements. By continually checking on the state of a component, you can plan ahead and reduce downtime.
Augmented or virtual reality
Take your training to the next level with augmented or virtual reality environments. Enable engineers in the field with the expertise, so that specialists don't have to travel as often to fix issues.
O2 pathway to your 5G private network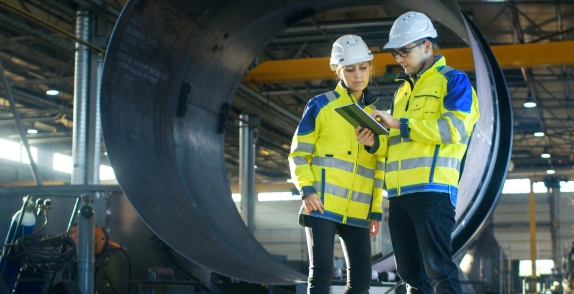 5G private networks have the potential to transform entire sectors.
The opportunities for revolutionising workflows and creating new revenue streams are particularly applicable for businesses within high-investment/high-value sectors.
Get in touch
We're here to help your business.